Hybrid Power - Conference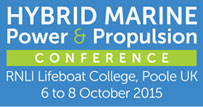 The Hybrid Marine Conference brings together a global group of experts armed with the latest knowledge that will assist the sub IMO professional sector to understand the possibilities of utilising hybrid systems.
The aim is to identify the potential for hybrid systems for specific sectors, including diesel / electric / battery for wind farm support vessels, pilot boats, patrol craft, survey vessels, superyacht tenders and unmanned craft.

The two day Conference and one day Workshop is relevant to various groups including end-user organisations, boat owners & operators, boat builders, engine manufacturers, mechanical & electrical engineers, naval architects, maritime legislators, government departments and military.
Building Networks & Accelerated Knowledge Transfer
For OEM engine manufacturers, component suppliers and installers the take away knowledge from this event will be relevant to various departments including strategic product development, engineering and business development.
Besides highlighting significant opportunities, the objective will be to create affiliations that share engine data, battery capabilities and work cycles for vessels.
Great Opportunities for Hybrid Power & Storage Systems
The Conference and Workshop will be led by John Haynes, Managing Director of Shock Mitigation, who said:
"The capabilities and expertise already exist in separate companies. Changes are coming fast and due to the range of technologies required it is unlikely that any one manufacturer will provide a complete system."
"For end user organisations, including owners and operators, the knowledge gained from these sessions will help to shape decisions that lead to procurement of next generation vessels and improvements to in-service systems."
For further information contact: