About HYBRID MARINE Power
HYBRID MARINE Power delivers relevant knowledge to enable maritime organisations to shape decisions about next generation power and propulsion.
HYBRID MARINE Power brings together an international group of experts to identify viable innovations - focussed on sub IMO / sub 24 metre sectors.
HYBRID MARINE Power enables people with genuine experience to address burning issues and evolve best practice across all maritime sectors.

NEXT GEN Conferences & Workshops
NEXT GEN programmes build on our experience of running hundreds of specialist training sessions focussed on viable solutions.

NEXT GEN conferences and workshops bring together a unique mix of end-user organisations, solution providers and maritime expertise.

NEXT GEN sessions and dynamic panel discussions offer unique opportunities to learn how to improve safety and efficiency on vessels.

This knowledge helps to shape decisions that lead to improvements for in-service vessels and procurement of next generation platforms and systems.

Support for NEXT GEN events has been excellent from end-user organisations, maritime legislators and the marine industry worldwide.


NEXT GEN Workshop Lead - John Haynes
Associate Fellow of The Nautical Institute

Fellow of RINA
- Royal Institute of Naval Architects

Commercial Yachtmaster Ocean Advanced Powerboat Instructor
Subject matter expertise includes 30 years professional sector training, consultancy and strategic product development. Working with over 100 organisations including military, border force, coastguard, police, SAR, commercial operators, ports & harbours, designers, legislators, equipment manufacturers and boat builders.

Shaped By Experience
He has chaired technical conferences ranging from 'The Future Of Wind Farm Support Vessels' to 'Fast Interception and Riverine Operations'. He has written numerous papers on future requirements and new technology. He is known for organising workshops with high level panel discussions to help solve industry issues.
In 2015 he set up a working group to assist the MCA (Maritime Coastguard Agency) create a Marine Guidance Note for lithium-ion and energy storage on vessels. His hybrid concept 'The Hour Of Power', combining diesel - battery - electric, has the potential to reduce fuel consumption and emissions for vessels worldwide.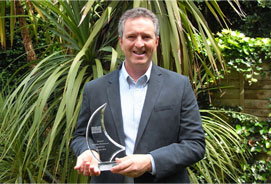 Seawork Maritime Professional of the Year
The nomination said, 'John Haynes is a thought leader in the high speed craft, shock mitigation and hybrid marine power sectors with a unique ability to engage and create momentum globally. John has a passion for these sectors, rooted in his own maritime background. He has a genuine vision of improving people's lives on boats. His work with over 100 organisations is testament to this.'
The award celebrates exemplary individuals within the maritime sector. Presenting the award in front of hundreds of industry professionals at The Vestry in Southampton, BBC News presenter Laura Trant said, 'John Haynes has been voted Maritime Professional of the Year for his passion, innovation and dedication to the marine industry'.