NEXT GEN Energy ANALYSIS Workshop

04.10.2023
Expert presenters and dynamic panel discussions examined the options for measuring, analysing and optimising energy use. With focus on sub 24m vessels, this knowledge is also highly relevant for vessels in the 25m to 100m range.
Operations and engineering teams need standard methods to compare alternative energy with traditional fuels. Technology developers need metrics to develop innovative solutions.
NEXT GEN Workshop Lead, John Haynes, 'From running Energy Transition training for significant maritime organisations it is clear there is an urgent need to measure current energy use and compare alternatives. Metrics support decisions, but it is essential to establish which analysis methods are viable - plus how real-world duty cycles and use cases fit with different forms of energy data.'
The drive for alternative marine fuels and energy is gaining pace. NEXT GEN highlights effective solutions for workboats, ferries, patrol craft, military vessels, search & rescue, wind farm support, offshore and superyachts.
The unique knowledge gained from NEXT GEN workshops helps to shape real world decisions, from modifying in-service powertrains to shaping requirements for next generation vessels. Attendees include commercial, government and military organisations, boat builders, engine manufacturers, technology developers, engineers, naval architects, class societies and legislators.

NEXT GEN Energy ANALYSIS topics include:



Benchmarking current energy use linked to operations
Measuring, analysing and optimising fuel and energy use
Real time vessel performance monitoring and control solutions
Comparing diesel & petrol use with alternative energy - battery - hydrogen
Decision making tools for vessel efficiency and engineering condition
Simple analogue methods versus intelligent predictive planning
Using data to reduce fuel consumption and emissions
Remote monitoring for crewed and uncrewed vessels
Identifying technology that can be installed on vessels today
To find out about future NEXT GEN Workshops: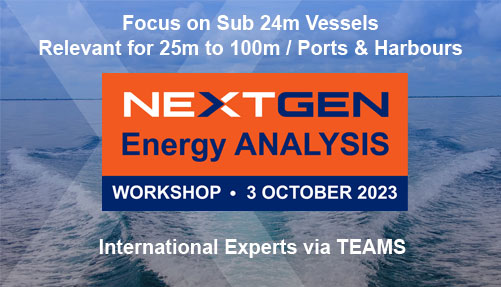 All images are copyright Hybrid Marine Power 2023 unless otherwise stated.
This does not exclude the owner's assertion of copyright over the material.