'What can the marine industry can learn from a building site?'
You might not immediately associate high tech marine power systems with cement mixers and hard hats – but power generation, away from the grid, presents as many problems on land as it does at sea. Land based applications also have another layer of demands – Blue Chip end clients with a genuine desire to mitigate their carbon emissions. A great example of how these clients can force standards are the generators used for the cross rail project in London. The contract requires the site to meet Tier 4 emissions requirements. This is a real challenge as the 'non highway' EU regulations are currently only at stage 3A. This has forced contractors to have custom modified generators built just for this contract!
Local authorities, led by London and other major cities, are enforcing emission and noise standards way ahead of national requirements. This is forcing innovation in the sector – and is a signal of what we are likely to see in the marine sector. There is an opportunity to get a big mug of tea, take off our hard hats and learn from the builders!
Paul Holland - Director, Energy Solutions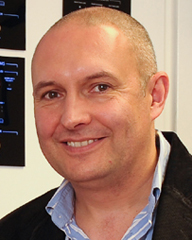 Paul Holland set up Energy Solutions in 1996 with the intention to supply innovative products, design and technical solutions to the marine market. Power conversion from low voltage DC to AC and visa versa was always a key part of these systems. This has moved over the years from a convenience (to power handheld appliances on-board) to being an integral part of an integrated hybrid power system.
By working with leading international manufacturers Energy Solutions can supply customers with a complete electrical power, monitoring and control solution. The company is the leading independent supplier of off grid power solutions in the UK. They also have a strong reputation with the specialist vehicle market and with industrial situations where their monitoring and control technology fits perfectly. The team at Energy Solutions work with some of the biggest names in the marine industry and have established themselves as a key supplier bringing new ideas and technical updates on a continual basis.
Download Hybrid Marine Presentation
Download Hybrid Marine Programme