Risks Associated with Maritime Battery Installations and their Mitigation
The presentation will look at the risks associated with the installation of maritime battery systems and how those risks can be eliminated, or mitigated and managed and how Lloyd's Register is approaching the use of this technology to ensure the systems comply with the requirements of the Rules and Regulations.
Lloyd's Register's work in the laboratory and growing experience on the water, is helping operators save fuel and increase efficiency, while reducing emissions. LR has extensive experience of battery installations, with vessels classed and in service.
LR's experience with large battery installations is captured in a new guidance document, 'Battery Installations – Second Edition January 2016', aimed at facilitating a risk-based approach to battery use. The guidance describes the key hazards to consider when installing battery technology, and gives an overview of our non-prescriptive approach to approval. The guidance also covers battery chemistry and industry standards.
The guidance starts at the beginning of a battery system's life cycle when the cells are being manufactured, and goes on to consider how an installation affects or is affected by a vessel's power system, placement on board, ventilation, fire-fighting, electrical protection and maintenance. The guidance aims to help industry consider the hazards associated with large battery installations but is not specific to a particular cell chemistry.
Bernard Twomey - Global Head of Electrotechnical Systems, Lloyd's Register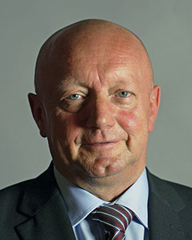 Bernard Twomey is the Global Head of Electrotechnical System for LR and is a Fellow of the IET and IMarEST, he is also a Member of the IMechE and advisor to the UK MOD Naval Authority on Power and Propulsion.
His background includes 12 years in the merchant navy before joining Lloyd's Register where he has responsibility for providing world-wide technical leadership in the maintenance of consistent standards and securing Lloyd's Register's role as a recognised technical leader within the Marine industry.