New Power and Propulsion Systems Need New Skills Training for Engineers and Integrators
As next generation power and propulsion gains traction in various maritime sectors worldwide, new skills training for engineers and integrators will be relevant to all countries that want to build and maintain effective marine transport systems.
The presentation will discuss what has been the UK marine industry's response to this skills gap, what challenges our industry face in recruiting, training and retaining skilled people into the marine industry and what else can we do. It will also look at the implications for the industry when introducing new technology and the skills required.
Following a survey of more than 300 employers and 24 of the UK's leading academics, the majority surveyed believe there are not enough skilled candidates leaving education to meet industry's employment requirements. 83% of businesses and 89% of academics think the skills gap needs to be bridged in order for the UK to be competitive in the world economy.
Tony is the volunteer Career Ambassador for British Marine which represents over 1600 Marine Industry member companies nationwide in the UK. He will utilise his experience working with Universities, Colleges, Schools, Careers Advisors and Youth Groups promoting the Marine Industry as a career option.
Tony Birr - Director, Century Maritime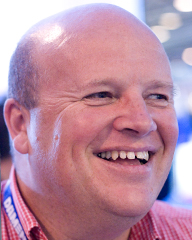 Tony Birr had 32 years police and military service. His last role in the police was the day-to-day management of Hampshire Constabulary's Marine Unit. This included managing the teams on the water activities, tasking and direction to deliver a policing and security presence within the Solent maritime community on the south coast of the UK. The Marine Unit worked with other organisations to keep one of the world's busiest waterways safe.
In 2011 he wrote an options paper looking at the future of maritime policing and what vessels would be required. Following presentations to senior police management and politicians, a budget of £1.5m was secured in Jan 2012. The task was to procure, design, set the specification, build and put into operation 4 bespoke police boats by the summer of 2012.
Having retired from the police in 2014 he set up Century Maritime Ltd to provide a range of professional services.