The Handbook of Lithium-Ion Battery Pack Design
Over the past 10 years the lithium-ion battery industry has experienced rapid growth, to say the least. With more than 100 companies (and another 100 emerging companies) developing and producing lithium-ion batteries throughout the world, change has become the norm. With new technologies being introduced regularly, continued increases in energy density and dropping cost targets. Yet there still exists a knowledge gap in the industry.
The Lithium-ion Industry's Knowledge Gap

That gap is in the area of education and training. With this rapid industry growth there have been many hundreds of people entering the lithium-ion battery industry that may have significant experience within their particular field of expertise, but who have not worked in the battery industry before. There are few tools available to these people to give them even the most basic understanding of the battery world. Only a very few universities offer courses on batteries and even fewer have complete battery engineering programs. Companies are working to develop their own training materials on batteries, but with little consistency.
By Dr John T Warner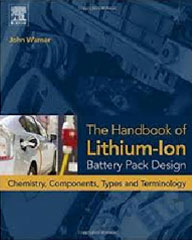 This book is intended to introduce a variety of topics that surround Li-ion batteries and battery design at a detailed enough level to make batteries understandable for the 'layman.' If you are an engineer, you will swiftly understand these concepts. However, if you are like many of us and are not an engineer, then this book will help you make sense of the world of Li-ion batteries and be able to speak intelligently about them.
The concepts in this book are focused on vehicle electrification, but are also relevant to many other applications including stationary energy storage, marine and offshore vessels, industrial motive, robotics, and other types of electric applications. In essence, this book is intended to take the mystery out of modern battery applications.
Dr Warner serves as President for the global battery industry trade group NAATBatt International. He also serves as the Chair for the Society of Automotive Engineers (SAE) Battery Size Standardization Committee and Co-Chair for the SAE Bus Battery Safety committee.