Windship Sail Power Could Revolutionise The Way Vessels Carry Goods Across Oceans
Windship aims to drive ships at sea using a combination of wind and engine power. The aim is to be so powerful that on a retro fitted ship they will save a minimum 30% of a ship's fuel consumption and emissions per year, and deliver future savings of 50% on new tonnage. Shipping emits as much Green House Gas as the 7th most polluting country in the world. Reducing these emissions, by first 30% and later 50%, will be in line with the most ambitious targets of the United Nations and the European Commission for climate change.
The Windship concept utilises 'wing sail rigs' built as a set of three triplane style wings placed vertically on the deck of a cargo ship, each one similar in size to two A380 Airbus wings. The wings are akin to the technology used by the Land Rover-BAR America's Cup Campaign. They are made of steel and composites and are 2.5 times more powerful than conventional sails. They are fully computer controlled. With 32 knots of wind at 90 deg they are sufficiently powerful to drive a 74,000 ton ship forward at 13.5 knots with no additional power necessary (source: Independent Lloyds Register verification).
Windship are seeking to achieve the establishment of a technical and manufacturing centre of excellence in the UK in an innovative sector. The objective is to lead the decarbonisation of the shipping sector using an innovative, British developed technology that leverages our traditional expertise in shipbuilding alongside national excellence in engineering and composite manufacture. Additionally to create jobs and growth in old industrial areas, and to leverage significant private sector investment to maximise the benefits to the UK.
Simon Rogers - Technical Director, Windship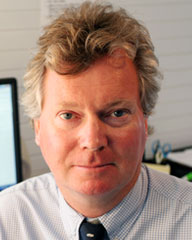 Simon has spent a life time in the Marine Industry. The son of a successful boat builder, and for the past 26 years the founder and managing director of Rogers Yacht Design Ltd with well over 100 design and build projects successfully delivered.

In 2010 Rogers Yacht Design won the International Superyacht Society Design award for 'Best Sailing Yacht under 40 metre' with the Yacht Aegir. This yacht has now gone on to win 2 World Championships and win multiple events.
His wide experience in design, performance composite construction of both leisure and commercial vessels and running large projects has furnished him with the skill sets required to tackle the Windship project. Simon is the Technical Director of Windship Technology Ltd and his innovative thinking along with the Windship team has resulted in a ground breaking technology with a truly global opportunity.