Development of High Technology Hovercraft
The 995ED Hovercraft has been a 2 year product development project by Griffon Hoverwork which has resulted in the highest technology hovercraft ever built. Key breakthroughs were the diesel electric drive, adhesive bonded aluminium hull, modularised design, drop-stitch sidebodies, mixed flow fans and azimuthing propeller ducts.
A particular challenge was to integrate hybrid car technology to design, test and create the diesel electric transmission. The clash between the culture and economic models of the marine and car industry during this process caused considerable difficulties in achieving a fully reliable and working system and this presentation will discuss these and how they were overcome.

The outcome is that Griffon Hoverwork have developed a flexible high powered light-weight power generation system that can be used to power loads up to 50kW either from a stand-alone dedicated small engine or as an ancillary drive from a large main engine. The system is currently in service to provide the main propulsion for the new 995ED and the bow thrusters for the new 12000TD.
Mark Downer - Chief Engineer, Griffon Hoverwork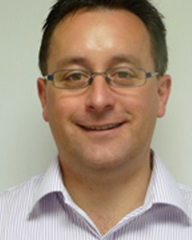 Mark was a Ship Science graduate from the University of Southampton in 1992. His previous experience includes 8 years served as a Marine Engineer Officer in the Royal Navy, before lecturing Naval Architecture at HMS Sultan.

On leaving the Royal Navy he joined BAE Systems for 6 years managing the Naval Architecture team on the Type 45 Destroyer project in Portsmouth. Mark joined Lloyd's Register for 6 years, firstly leading the Naval Design Support function before being promoted to manage the largest LR Design Support Office, based in London.
He holds the current position of Chief Engineer at Griffon Hoverwork Ltd. He is the Head of the Engineering Technical Department and responsible for all hovercraft design and technical matter. He has helped to implement a robust design procedure which is able to deliver support to customer build projects in a rapidly growing international company.