Experience of Testing Novel Hull Forms and Propulsion Systems for Sub IMO Vessels
As part of their final year projects, students on the Yacht Engineering Degree programme at Southampton Solent University have the opportunity to use the University's 60m Towing Tank to assess the resistance and seakeeping characteristics of their designs.

This has resulted in a number of experiments investigating novel and unusual hull-forms. This presentation will show some of the more novel hull forms, explaining their design intention and performance in the towing tank, along with innovative power and propulsion systems.
Jonathan Ridley - Head of Engineering - Warsash School of Maritime Science and Engineering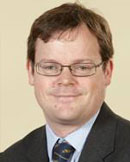 After qualifying with a degree in BEng (Hons) Yacht and Powercraft Design, Jonathan worked for the Defence Evaluation Research Agency (DERA) and later QinetiQ at Haslar. In this role he worked with both experimental and computational fluid hydrodynamics ranging from CFD application and validation and consultancy to scale model and towing tank testing. He did this on a wide range of vessels from IACC 72 yachts to submarines and large civil and military vessels.
Following this Jonathan joined Warsash Maritime Academy, teaching naval architecture and ship stability on both the navigation and engineering programmes to both cadets and senior officers in the Merchant Navy. In this role Jonathan also provided consultancy services covering education, training and assessment for the industry. During this time Jonathan became the principal lecturer (operations), with responsibility for management of the cadets and student support. He was also responsible for academic liaison with sponsoring organisations and shipping companies.
NEXT GEN Workshops - October 2017