Developing a Commercial Passenger Fleet Utilising Hybrid Battery - Electric Systems
Marine Hybrid systems continue to find compelling applications in the commercial market. This presentation will detail a fleet of barges coming into service in Spring 2018. Operating in central France These 38M vessels will provide scenic tours for 55 passengers. Operating from the battery bank alone these craft will provide a full days operation in complete silence. Initially installed with a parallel/serial hybrid system a pathway to eliminating diesel engines is provided once shore side charging infrastructure is better developed. Detailed system design and operating experience will be presented.
Hybridisation of a craft is not as simple as swapping out the propulsion plant. The entire vessel and its operating requirements must be considered. For some craft, hybrids can offer many benefits; in other cases, installations may just add cost and complexity. This presentation will explain basic concepts and dispel a number of myths by addressing the following questions. What are the pros and cons of hybrids? How do we successfully implement the technology? What costs are involved and what premium can the market support? Is the technology mature enough?
Graeme Hawksley - Managing Director, Hybrid Marine Ltd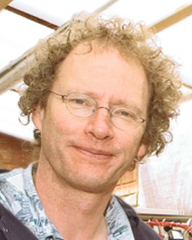 Graeme has an MSc in Microelectronics and has been in the electronics industry since the late 1970s.

He has worked in the UK and USA in aviation, marine and silicon chip manufacturing.

A UK government grant provided funding for research into the use of hybrid systems in small craft. In 2003 Hybrid Marine was born and has been manufacturing systems for 12 years.

In 1993 Graeme sailed out of Portsmouth Harbour in his old 26' wooden sailing sloop. Four and a half years later he found himself in New Zealand. Graeme returned to the UK in 1998.