The Potential for Hybrid and Low Emission Solutions in Offshore Wind
The Offshore Wind Accelerator has previously focussed on the improvement of the performance of offshore wind vessels in harsher conditions, particularly to support the future further offshore wind farms. The wind farm developer led programme has focused on improving performance in terms of vessel speed and motions during transit and the safety in transferring personnel from the vessel to the turbine.
However, there is an opportunity for offshore wind vessels to increase efficiency and reduce emissions. There are variety of vessels being used in the construction and operation of offshore wind turbines but it is felt the initial focus for this challenge should be with the vessels used for Operations and Maintenance (O&M). The focus will be on the smaller Crew Transfer Vessels (CTV, up to 24m LWL) and the larger Service Operations Vessels (SOV, 70 to 90m) which are now entering the offshore wind market in looking at potential options for reducing emissions.
As part of the presentation, an overview will be given on the approach that the OWA has taken to use market pull to support innovative concepts into the offshore wind industry and to discuss whether this can be replicated to the challenge of low emissions offshore wind vessels. The feedback from the industry we have received from the industry has been very mixed with some developers very supportive and others are more focussed on shorter term goals.
Dan Kyle Spearman - Naval Architect, The Carbon Trust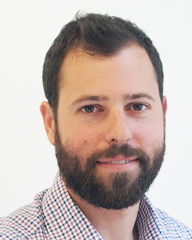 Dan joined the Carbon Trust's Innovation team to manage the Access division of the Offshore Wind Accelerator (OWA) programme.

He is a Naval Architect who previously worked for a marine consultancy gaining experience of sea trials and model testing of high speed craft. He was also extensively involved in the development, construction and sea trials of different prototype access systems.
The Offshore Wind Accelerator (OWA), managed by the Carbon Trust, is a world leading industry'Äźled collaborative programme supported by the UK and Scottish Governments, involving nine leading offshore wind developers that aims to reduce the cost of offshore wind by 10% by 2020.
Dan manages R&D projects focussed on the de-risking of cutting edge innovative concepts and developing methods of better understanding vessel performance.