Alternative Fuels for Propulsion and Emissions Control
Diesel fossil fuel engines emit carbon dioxide (CO2) and other emissions such as nitrogen oxides (NOx), sulphur oxides (SOx), methane (CH4), particulate matter (PM) and black carbon (BC). Since 1910 the use of fossil fuels has caused the planet's environment to be damaged to a significant level.
The December 2015 COP21 climate change conference in Paris has commitment from 195 countries to reduce Global Emissions. IMO has devised much legislation, including implementation of Emissions Control Areas (ECA) and Sulphur Emissions Control Areas (SECA), which almost all of Europe and the UK are part of.
The environmental impact of emissions has led industry players to look for low emission alternative fuels such as LNG, LPG, Methanol, Ethanol, Butanol, Dimethyl ether (DME) and emulsified fuels or electric / hybrid technologies.
Captain Shafique is utilising his experience and academic research as a thought provoking topic for professional small craft and the yacht industry to consider both emission reduction and alternative means of propulsion.
Captain Muhammad Shafique - Senior Lecturer, Petrochem - Warsash Maritime Academy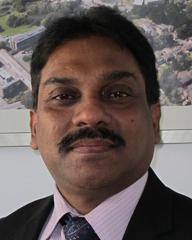 Muhammad joined the Merchant Navy (Tankers) in 1978. He has 37 Years of Industry experience onshore and offshore, including sailing on oil, chemical and gas tankers for 23 years.

He has worked as General Manager of a ship management company and is an experienced Tanker surveyor. He has been lead of the project 'LNG Bunkering, Motor Ways of Seas of European Union' since 2013. He is a researcher of LNG bunkering and alternative fuels for the maritime industry and is a member of the Special interest Group in IMarEST for alternative fuels.

He is a member of seven professional bodies including The Nautical Institute, Institute of Charted Ship-brokers, Institute of Logistics and Transport, Institute of Marine Engineering Science & Technology. He is currently the Courses Leader and Senior Lecturer, Petrochemical Section, of Southampton Solent University.

NEXT GEN Workshops - October 2017