'They said it could never be done' - The Scientific and Engineering Approach to the Manufacture and use of Emulsified Fuels
A fully British designed and manufactured boat aims to be the fastest and most fuel efficient powerboat to circumnavigate the globe for the much coveted UIM World Record currently held by New Zealand in as time of 60 days 23 hours 49 minutes. The British team's route is approximately 23,850 nautical miles.
The World Record Authorities dictate that for recognised circumnavigation the craft has to pass through the Suez and Panama Canals, cross the Tropic of Cancer and the Equator and that the journey must start and finish in the same place, though that can be anywhere in the world. The proposed route is: Gibraltar, Puerto Rico, Panama, Acapulco, Honolulu, Guam, Singapore, Oman, Gibraltar.
It is the aim of this project to contribute towards the required research through the development and testing of this boat to create more fuel efficient vessels. The key element that will bring about a successful circumnavigation is creating a low resistance, low weight design which does not consume huge amounts of fuel on the voyages exceptionally long legs. Due to this the boat's ability to be highly fuel efficient is critical and will have to beat anything that already exists. The boat build itself will be carried out using recycled aluminium, which will account for over 80% of the finished vessel and should the boat eventually be scrapped it is estimated that over 90% of it could be recycled.
Alan Priddy - Global Powerboat Circumnavigation Record Team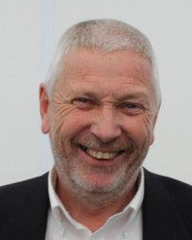 Alan Priddy is a world leader in offshore expeditions and is the current holder of 37 World Records. He has powerboated and sailed around the world in both directions and he now knows what type of craft is required to break the World Powerboat Circumnavigation Record of 61 days.

He attempted to circumnavigate the world in a RIB in 2002, and in 2008 successfully completed a circumnavigation by yacht. He has also navigated a RIB around Scotland, Ireland, Britain and across the Bay of Biscay. He set a world RIB record in 2003 for crossing the Atlantic in 103 hours.
Alan is working with a carefully chosen team of highly driven like minded professionals to complete the fastest ever circumnavigation of the globe in a powerboat.