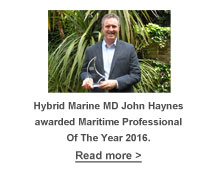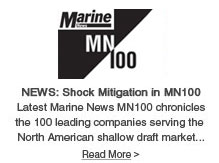 Global Marine Technology Trends 2030 – Autonomous Systems

05.10.2017
According to a new report on the future of autonomous maritime systems, over the next decade maritime activity will be dominated by unmanned surface and underwater vessels.
Written and researched by the University of Southampton, Lloyd's Register and QinetiQ, the report is a follow-up to GMTT2030 looking at how technology trends will impact upon the regulatory and social aspects of maritime operations.
Autonomy and autonomous systems have accelerated to an extent where it may be possible to deliver credible solutions within the next couple of years, enabled by the breadth of capabilities and adjacent technologies emerging from commercial and consumer worlds.
The Future is Coming Faster Than Expected
Foreword in the latest report says: In the relatively short period since we published GMTT2030 a number of developments have brought some of the issues raised in our previous publications to the fore:

The apparent slowing down of globalisation caused in part by BREXIT and the new US Administration's agenda.

Rapid developments in consumer technologies, such as Artificial Intelligence (AI), personal and multimedia solutions, along with widespread digitalisation of businesses and economies.

The start of a new industrial revolution (Industry 4.0) that has the potential to disrupt traditional businesses, markets and economies.
As a result of these global changes we believe that the Competing Nations scenario, described in Global Marine Trends 2030, is more likely. Given a Competing Nations context, what will the fourth shipping revolution look like? With the benefit of hindsight, we now see that in some areas our perspectives on emergent technologies were somewhat conservative.
GMTT2030 - Global Marine Technology Trends 2030
GMTT2030, a report produced in 2015 jointly by University of Southampton - Lloyd's Register - Qinetiq, identified 18 technologies that are likely to shape the future of the marine and maritime sectors up to 2030. Some of these technologies are already established with the prospect of further modifications and improvements. Other technologies are in their infancy and have the potential to revolutionise, possibly disruptively, the way in which vessels are propelled.

Opportunities for new power and propulsion technologies to gain a foothold are likely to be diverse and not just related to large scale international shipping but also to other forms of vessel operations including short sea shipping, work boats, and the leisure craft sector. Each of these sectors may well require different technologies to deliver power and propulsion in the future.
Picking winners is difficult but it is clear that the new technologies that will shape our future will arise through collaborations between scientists, engineers and industrialists. Some of the drivers are clear – energy efficiency, safety, environmental impact – but other drivers may emerge. The Southampton Marine and Maritime Institute has been established to enable these kinds of collaborations; the Global Marine Technology Trends 2030 report is an excellent example of just such a collaboration.

Where Are We Now?
The Maritime Autonomy section in the latest report says...
Given the media focus on autonomous cars you would be forgiven for thinking that we are more likely to see self-driving vehicles on our roads before they reach the high seas. The reality is quite the reverse. Automation, robotics and artificial intelligence are already transforming most sectors. Technical feasibility combined with compelling economic advantages, such as improved efficiency, reduced operating and labour costs, is driving adoption especially in aviation, engineering, construction, manufacturing and healthcare providers who are all investing heavily.
Autonomous technology is poised to reshape the maritime sector with crewless vessels. Small craft are already developed and in service with larger vessels under development. It is time for the maritime industry to accept autonomy is coming, and to understand how autonomy will shape future industry and how best to exploit it.

The growth in Maritime Autonomous Systems over the period since the publication of GMTT2030 has exceeded our expectations. Major initiatives by organisations, such as Rolls Royce, Japanese shipbuilders, and Norway-based Kongsberg (in partnership with Yara, a Norwegian chemical company) have all revealed plans to develop all-electric and autonomous container ships by 2020. There is a fierce race to be first across the finish line.

Labour and costs are key factors driving this pace of change in maritime. A shortage of skilled people is accelerating the move to unmanned and autonomous ships. Navies world-wide are investigating how to substitute labour with autonomous technology in the face of significant budget cuts.

There are growing numbers of small-scale autonomous vessels being operated across a wide range of applications, such as:
• Ocean science
• Naval operations
• Surveying and exploration

Such vessels, operated in small fleets (swarms, although there is an argument that suggest they should be called pods), are now routinely employed by the National Oceanography Centre (Southampton, UK). Their MASSMO (Marine Autonomous Systems in Support of Marine Observations) events bring together the largest fleet of marine robotic vehicles simultaneously deployed in UK waters, operating together to collect a range of environmental data.

The Royal Navy conducted Unmanned Warrior 2016. This event successfully demonstrated the latest unmanned system technologies, including air, surface and sub-surface vehicles and sensors, from a wide range of nations and technology providers. Key applications included Mine Countermeasures and GEOINT (Geospatial Intelligence).
On the regulatory front, the UK Maritime Autonomous Systems Regulatory Working Group (MASRWG) is attracting international interest. They have developed a Code of
Conduct for Maritime Autonomous Surface Ships (MASS) and are following this up with a more detailed Code of Practice for MASS. On the international front they provided the draft of the request for a scoping exercise which was submitted by the Maritime & Coastguard Agency to the Maritime Safety Committee (MSC) of the International Maritime Organisation (IMO). The scoping exercise was accepted into the MSC work programme at MSC 98 in June 2017.

We see 2017 & 2018 as the turning point in the maturity of maritime autonomy and unmanned vessels. Within this insights report we seek to provide a more in depth view of the developments and challenges in Marine Autonomy and stimulate debate about wider employment, skills and socio-economic aspects of their application.

All images are copyright © Shock Mitigation Directory 2017 unless otherwise stated.
This does not exclude the owner's assertion of copyright over the material.